Oohh!!! You're lovable, Ahmi, even with that haircut!!
My goodness, thanks God they can't have children ensemble…
Just go and read Fausta's post: an excerpt:
On a trip to strengthen ties with leftists in Latin America and roll back U.S. influence, the Iranian president, Mahmoud Ahmadinejad, has pledged to invest $1 billion in Bolivia and reaffirmed relations with the Venezuelan president with a declaration that "no one can defeat us."
And now comes the laughable statement from Aggggggggmi:
Iranian President Mahmoud Ahmadinejad has extended an invitation to U.S. President George W. Bush to speak at an Iranian university if the American leader ever traveled to the Islamic Republic, state-run television reported Friday.

As part of his controversial trip to New York, the hardline Iranian leader spoke Monday at Columbia University, where he faced hostile questioning and a combative introduction by the university's president, who said Ahmadinejad exhibited "all the signs of a petty and cruel dictator."

"If their president plans to travel to Iran, we will allow him to make a speech" at a university, Ahmadinejad told state TV before leaving New York to travel to South America earlier this week.
If I were Bush I would never go to Iran till the mullahs are gone, just in case…
But that's not all: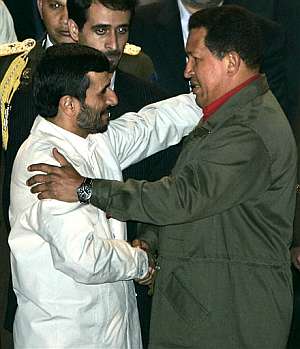 Ahmadineyad y Chávez se saludan en la recepción oficial en Caracas. (Foto: AP)
Ahmi, this does not look good. You said there were no homosexuals in Iran…, remember?
And we are not even in spring!!!
_____________________
Ahmadine-jihad está en Bolivia y Venezuela, abrazándose con sus respectivos presidentes. Con uno hace manitas y con el otro mantiene una "corta pero muy privada relación".
(Dios, mejor que no hayan puesto el vídeo…)
Pero no: no ha sido un viaje de placer. En Bolivia Ahmadinejad ha anunciado que Irán va a invertir un billón de dólares en Bolivia.
Con Chávez departió en el habitual estilo robolusionario:
"Nos hemos sentido todos los venezolanos verdaderamente orgullosos de ser sus hermanos, amigos de Irán, y de compartir juntos este camino de la revolución, de la dignidad de los pueblos, de la soberanía. ¡El camino de la lucha contra el imperialismo!", declaró Chávez al recibir a su colega iraní.

[…] Por su parte, el presidente iraní llamó a su "hermano de corazón" Chávez el "gran revolucionario de América Latina", y lo calificó como "un gran hombre, revolucionario y valiente, que ha dedicado su vida al avance del pueblo venezolano, de la revolución y al despertar del pueblo latinoamericano". Auguró que los gobiernos y pueblos de Irán y Venezuela "con una puesta en común estarán siempre juntos en la escena mundial (…) multiplicando" su poder en beneficio de la paz y prosperidad de los "pueblos oprimidos".

Agregó que Caracas y Teherán "estarán al lado de todos los pueblos revolucionarios en el mundo" como "el pueblo oprimido de Bolivia, el querido pueblo de Nicaragua, la gente revolucionaria de Cuba, el pueblo ecuatoriano, uruguayo", agregó.
"Hermano de corazón"… huyyyyy, esto se pone mal.
Por cierto, que Ahmadine-jihad quiere ¡¡invitar a Bush a hablar en Teherán!!
Y ¡no estamos en primavera!