El recién nombrado Premio Nobel de la Paz y Premio Príncipe de Asturias de Cooperación Internacional 2007, Al Gore, ha elegido España como primer país de habla hispana para desarrollar su proyecto contra el cambio climático 'The Climate Project', informó hoy la organización en un comunicado.
El ex vicepresidente de Estados Unidos desarrollará en España su labor de concienciación a Gobiernos y ciudadanos sobre la crisis del calentamiento global del planeta a través de 'The Climate Project Spain'.Al Gore eligió España por estar situada estratégicamente entre Europa, América Latina y África, por ser miembro de la Unión Europea y por mantener profundos vínculos históricos, culturales y linguísticos con la población latinoamericana, afirma la nota.El primer encuentro español de líderes en materia de cambio climático se celebrará en Sevilla los próximos días 26, 27 y 28 de octubre, patrocinado por la Junta de Andalucía y sus Consejerías de Innovación, Ciencia y Empresa y Medio Ambiente.
---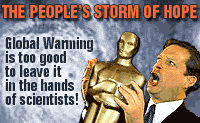 For
English readers
:
Al Gore has chosen Spain as the first Spanish-speaking country to develop his project of making the Governments aware of the climate change…
Allah is going to be really happy
: Al Andalus, the first in the fight against the pollution
. Bwaghhhhhhhhhhhh!! What a bunch of fools!!! Specially considering
all the faults his theory has
.

Related posts
: