This last week saw a curious crack down on Dutch blogs that do not quite adhere to the goodthink deemed acceptable by our 'betters'.

Today we learned that Wordpress took down the blog managed by SIOE Nederland. According to Nieuw Religieus Peil (NL) Wordpress took the site down after receiving complaints:
We have received several complaints about your blog including complaints from the Dutch government. Your blog contains "hateful or racially or ethnically objectionable" content which is against our terms of service
After which the good (and brave) people of Wordpress took immediate action, resulting in this: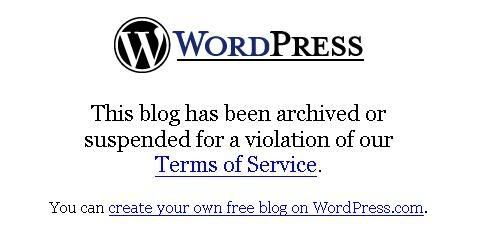 The governments seeming direct involvement is a bit surprising in its overt character. But not everything is as it seems. Het Vrije Volk initiated an email correspondence with the good people of Wordpress, which can be viewed
here
. Most telling: The complaint was filed by some busy body at the
Meldpunt Discriminatie Internet
(Complaints Bureau for Discrimination on the Internet).
As Duns Ouray of Het Vrije Volk told Wordpress:
Let me note something crucial. "

The Dutch Complaints Bureau for Discrimination on the Internet" is NOT the Dutch government. It is an independent foundation

.

In my personal opinion, it is a foundation of political zealots. They attempt to silence people who do not share their islamist views, by wearing them down with legal action and semi-legal complaints.

The complaint they filed you with is something that I would qualify as semi-legal action. Or political activism.
The complaint by the MDI consisted of taking some comments on posts and of ehm... free? ... translation of Dutch language posts in such a way as to shed as negative a light on it as possible. Naturally, Het Vrije Volk has taken issue with Wordpress's decisions based on such flimsy and false evidence. We'll be tracking this one. In the mean time, SIOE Nederland has found a temporary home
here
.
Earlier, the Dutch language blog
Hoeiboei
got into some hot water with their bloghost
Web-log
. The latter received an email from the burough council of De Baarsjes (who we've written before on this blog. See
here
and
here
). One
Enver Varisli
wants his name removed from a post at Hoeiboei dating back to 2006.
Dutch Concerns
has the full story. Hoeiboei's own take on the situation (NL) is
here
.
The funny thing is: In this case, as well as in the SIOE Nederland case, the MDI seems to play a pivotal role, styling itself as the Dutch variant of Orwells thought police. Remember
Ezra Levant and the Human Rights Council
? We'll be getting some of that in the Netherlands as well.
Klein Verzet
, bloguero holandés, informa h/t
IBA
de que el blog del SIOE holandés (Stop a la islamización de Europa) ha sido cerrado a instancias de
Meldpunt Discriminatie Internet
, una fundación independiente, que no tiene nada que ver con el gobierno holandés, que acusó al blog de "incorporar posturas llenas de odio y racistas o contenido objetable". Así que los chicos de Wordpress.com, que son unos CAGUETAS, han ido y les han suspendido el blog.
Así que ahora se han ido a
otro blog
.
Klein Verzet habla también de que no es la primera vez que ocurre esto: el blog Hoeiboei tuvo problemas con su host Web-log.
Así que considera que pronto tendrán en Holanda una organización semejante al
Human Rights Council
canadiense.
Vuelvo a repetir: es necesario hacer un backup de todo lo que tengamos en el blog. Por si acaso.
ACT.:
Klein Verzet me ha mandado un correo alertándome de que Wordpress.com ha levantado la suspensión a la página. Una buena noticia. Y parece que esto es una costumbre ya en Wordpress.com: primero suspende la página y luego levanta la suspensión, sin considerar el extraordinario problema que supone para los bloggers. Sin ir más lejos
a mí me pasó lo mismo este verano
: la excusa fue una foto que se suponía yo había usado sin permiso.
Posts relacionados: