Lo raro es que hiciera lo contrario:

BBC NEWS | Middle East | Al-Qaeda deputy defends attacks:

"

Al-Qaeda deputy Ayman al-Zawahiri has defended attacks on the UN, describing the body as an enemy of Muslims

. (don't make me laugh... a) UN forbids to make racial or religious profiling in the fight against terrorism. b) FITNA: UN, OIC and EU condemn the film. c) UN passes a resolution against the defamation of religions, which suprisingly ONLY refers inside its tet to Islam. Hmm, yes I see the etreme hate UN has for Muslims. So etreme that it has been protecting it OVER the rest of religions and creeds.)

The Egyptian-born militant also used an internet message to say his leader, Osama Bin Laden, was in good health.

His audio message answered questions about al-Qaeda's future solicited from websites linked to the group.

The questions covered topics from the group's plans for Palestine and opportunities for women militants, al-Qaeda's al-Sahab media arm said.

'The United Nations is an enemy of Islam and Muslims,' said Mr Zawahiri in the 90-minute message.

Attacks on Jews

He denied reports alleging Bin Laden was sick.

'Sheikh Osama Bin Laden is in good health,' he said. 'The ill-intentioned always try to circulate false reports about him being sick.' (

What is really in good health, boy? Bin Laden or its corpse?

).

Mr Zawahiri also called for attacks on Jews both inside and outside Israel.

'We promise our Muslim brothers that we will do our utmost to strike Jewish people in Israel and abroad with help and guidance from God,' he said."
El líder de Al-Qaeda Ayman al-Zawahiri ha defendido los ataques a la ONU, describiendo a la organización internacional como un enemigo de los musulmanes.
El "militante" nacido en Egipto ambién usó el mensaje de Internet para decir que su líder, Osama bin Laden, estaba bien de salud.
Su mensaje de audio respondió a una serie de preguntas sobre el futuro de Al-Qaeda solicitadas por webs vinculadas al grupo.
Las preguntas cubrían cuestiones desde los planes del grupo para los palestinos y oportunidades para las mujeres militantes, según informó el brazo mediático de al-Qaeda, al-Sahab.
"Las Naciones Unidas son un enemigo del Islam y de los musulmanes," dijo Zawahiri en el mensaje con una duración de 90 minutos.
Asimismo, negó informes alegado que Bin Laden estuviera enfermo.
"El Jeque Osama Bin Laden está bien de salud," dijo. "Los que tienen malas intenciones siempre intentan circular falsos rumores diciendo que está enfermo."
Zawahiri también pidió nuevos ataques sobre los judíos tanto dentro como fuera de Israel.
"Prometemos a nuestros hermanos musulmanes que haremos todo lo que esté en nuestras manos para golpear a los judíos en Israel y en el extranjero con la ayuda y la guía de Dios," dijo.

Las dos cosas que más gracia me hacen del mensaje son:
a)
la ONU es el enemigo del Islam y de los musulmanes
: Juassssssss. Al-Zawahiri, chatín, que eso no te lo crees ni tú, majete. Fíjate, no soy periodista de prestigio pero sólo con leer los últimos posts sobre la ONU, ya se puede comprobar que mientes como un bellaco:
-
La ONU prohíbe usar perfiles raciales o religiosos contra el terrorismo
. ¿Adivinas a qué religión protege esto? Como digo ahí, no es la religión lo principal si no la ideología política. Pero ¿a que no habría que hacer un perfil del terrorista religioso sintoísta? Por supuesto, porque NO existe nadie que mate por ser sintoísta ni a los que no lo sean.
-
FITNA: la ONU, la OIC y la UE condenan la película
. ¿A qué religión protege eso,
manito
?
-
La ONU aprueba una resolución que castiga la difamación de las religiones
. Así dicho queda hasta igualitario. Resulta que sólo hay UNA religión mencionada expresamente en su texto. Hmm, ¿¿¿cuál será??? Acertaste, Al-Zawahiri, el Islam.
Uyy, qué enemigo tan grande es la ONU... Estoy empezando hasta a asustarme yo. Sobre todo después de leer las enérgicas palabras de Ban Ki-Moon.
b)
Bin Laden está bien de salud
... Juassssss, ¿entonces porqué no sale NUNCA en un vídeo de los que saca Al-Qaeda? ¿Quién está bien de salud, Bin Laden o su cadáver? Porque, ciertamente, después de verle en el vídeo de Bin "
cabellera teñida
" Laden, como que me da que un poco desmejorado sí que estaba. Otra cosa es que perder al Súper-Sahib y reconocerlo sería muy malo para la publicidad... ¿A que sí, pillín?
Ay, Señor, ¡¡¡qué cruz!!! Que tío más @#€@#... y además pesado.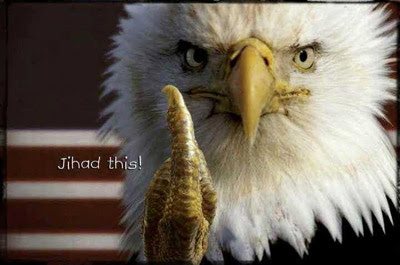 Anteriores posts sobre Al-Zawahiri:
Al-Zawahiri, ese hombre insatisfecho...
(sí, la verdad es que tiene una cara de tener ardor de estómago...). Aquí amenaza al Papa (una de ellas, ejem..., el Papa no deja de coleccionar cromos con las amenazas de Al-Zawahiri... como decíamos de pequeñas con los cromos: "si le", "no le"... Pues el Papa venga a decir "si le" todo el día
)

¿Estamos preparados?

Al-Qaida llama a limpiar el Magreb islámico "de los hijos de España y Francia"
.

Personajes reales
. Aquí amenaza a la Reina Isabel II de Inglaterra, que está en la misma situación que el Papa, con más amenazas que pelos tiene en la cabeza.
The Jihadi menace for Spain: more than ever
.
Al-Qaeda acusa a Hamas de venderse a Israel
. Esta también era buena... y debe estar relacionada con eso que ha dicho hoy de que van a ir a por los israelíes.
Technorati Tags: UN, ONU, Al-Qaeda, Al-Zawahiri, Bin Laden, terrorismo, guerra contra el terrorismo, GWOT